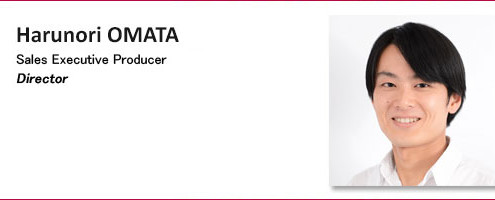 "I want you to keep doing your best work as you return to being a regular member of the staff."
Many thoughts came to my mind when my director told me these words.
It was in the early spring of 2010, and I had spent several months in a demoted role. Thanks to everyone's efforts in rebuilding the company,dmr! wasfinally starting to show signs of recovery. Hearing my director's words, I could reaffirm that I had made a contribution to the recovery, but, at the same time, I understood that my performance was not yet up to scratch and that there was still a lot left that I wanted to do; so I simply responded, "I will".
At the time,dmr! was still in extreme financial difficulty, and unless we increased employee productivity, the large deficit was set to continue. So, the company revised the personnel system in line with work performance, and I was demoted. The other nine members of staff who were demoted along with me didn't accept the decision and quit the company. But my decision was to accept the demotion and stay at dmr! This is because I thought that this kind of challengeis rare in life, and if I could just get through it, I would be able to grow as a person. I set back to work with the nervous excitement that this could be my last chance at dmr!.
Even though I was now demoted, I was doing the same work as I had done before: the rebuilding of dmr!.In dmr!'s company culture, the attitude of taking on anything without fear of failure is respected, and as long as a person who has failed at something analyzes the reason for that failure of his own accord, and advances positively from there, he will receive respect. I went back to this basic stance of dmr!'sand reaffirmed that to go on facing challenges was my one and only raison d'etre at this company.
In order to rebuild dmr!the core product of the time was switched, and along with that switch many points had to be revised, such as the restructuring of the Sales and World Logistics Divisions. There was a huge amount to get done: operating the organization in a way that maximized the talent of all our staff, with their various ways of working as regular employees, part-time staff and interns; devising ways to avoid being caught up in a fierce price battle; and ensuring the seamless operation of our Shibuya store and online shop. Sometimes, when meetings were held up by something trivial, we would attempt to get the project moving at an appropriate pace by collectively reminding ourselves of the bigger picture. While it is good for a project to progress quickly, we had to examine such problems so as not to overlook something that, although trivial at first glance, could have had a serious impact on usability from the customer's perspective.
If your company was in the same tough financial situation as dmr! wasback then, you might think that mistakes could not be tolerated. However, the biggest risk is to do nothing. Would a pro baseball batter keep getting paid if he never swung the bat? In the highly competitive world of the Major League, on achieving his 4000th hit, Ichiro said that "in order to get those 4000 hits, I had to go through over 8000 frustrating misses". For us businesspeople, too; when we go through tough times, what is important is to be able to make these failures work for us in the next stage. Dmr! has become a diverse work environment, where we can work together with people from various countries who have an interest in Japan and in dmr!. Working abroad is another big challenge and, of course, there may well be some failures. I wanted torebuild anorganization in peril, and I had a great interest in finding out how I could grow by not fleeing from danger. I failed a lot, but by learning from these experiences and using what I learned to take on new challenges, in my present role as a director I have gotten the chance to take charge of operating the company with a wider perspective. I believe that all of us, as challengers, by going on failing and fighting our way through, create a new kind of service, and I want to deliver this service to our customers.
Director's message – H. Omata Director's message – H. Omata Director's message – H. Omata Director's message – H. OmataDirector's message – H. Omata Director's message – H. Omata Director's message – H. Omata Director's message – H. Omata Director's message – H. Omata